1. SCOPE
This document specifies the features of IEC 61499-1 and 61499-2, according to the guidelines given in IEC 61499-4, to be implemented in order to demonstrate:
The features to be demonstrated are illustrated in Figure 1.
NOTE - The sensor/actuator links designated #1 and #2 in Figure 1.1 may be non-interoperable. However, it is intended that feasibility demonstrations conforming to this Agreement may show the transfer of events and data from sensors on one link to actuators on another link using appropriately configured and interconnected service interface function blocks.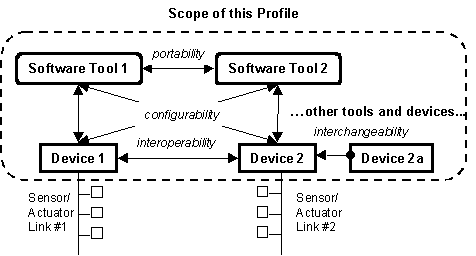 2. NORMATIVE REFERENCES
The following normative documents contain provisions and references to other normative documents which, through reference in this text, constitute provisions of this specification. At the time of publication, the editions indicated were valid. All normative documents are subject to revision, and parties to this agreement are encouraged to investigate the possibility of applying the most recent editions of the normative documents indicated below. Members of the IEC and ISO maintain registers of currently valid International Standards.
The following documents are available at www.ietf.org:
The following document is available at www.w3c.org:
3. TERMS AND DEFINITIONS
The definitions given in IEC 61499-1, 61499-2 and 61499-4 and the sources referenced therein apply for the purposes of this specification.