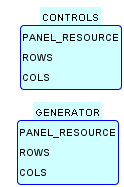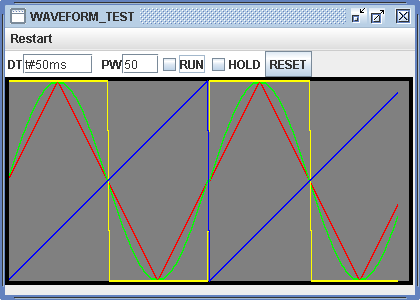 This System Configuration provides a real-time display of the outputs of the waveform generators in the fb.rt.signals package. The waveforms produced by instances of the SAW_GEN, SAW_BOX, SAW_SIN and SAW_TRI FB types are shown in blue, yellow, green and red, respectively.
As shown above, this system configuration contains a single device named WAVEFORM_TEST of the type FRAME_DEVICE, which provides the main window for the display. This device contains two resources of type PANEL_RESOURCE, whose detailed configurations are shown below.
Communication from the CONTROLS resource to the GENERATOR resource uses the local multicast design pattern.