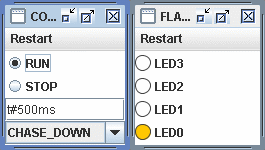 This system configuration provides a framework for testing instances of the FLASHER4 and LED_HMI FB types in one Device (FLASHER), with their control elements in a separate Device (CONTROL), as shown below.
The animation above shows the results of following the same test procedure as for the FLASHER_TESTL System configuration.
This System configuration uses the Local Multicast design pattern for the communication of data and events among Devices. The configuration of the local multicast channels is identical to that of the FLASHER_TESTL System configuration.