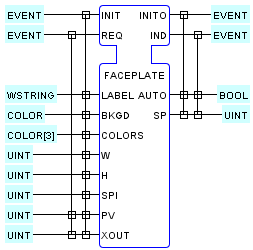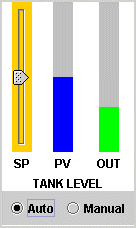 An instance of this function block type displays the process variable (PV) and output (OUT), and provides user input of the set point (SP), for a closed-loop controller. The values of these variables are treated as percent of full scale.
The LABEL input provides a top-centered label for the faceplate ( TANK LEVEL in this example).
The AUTO output provides for user control of the controller mode via the Auto/Manual radio buttons.
The input and output variables are defined as shown below.
See the TANK_MVCL system configuration for an example of the usage of an instance of this type.